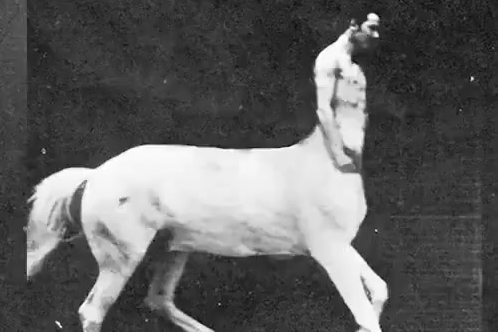 Computer file types come and go. It's unlikely you've recently opened a .PCX for example, a type of image file now so redundant as to virtually be regarded as jurassic. That redundancy came less because it was a particularly specialized format, at least by the standards of today, but because it had it's moment in the early stages of widespread computer use, served its purpose and was superseded by the advance of technology and newer file types which did a similar job better. There are dozens, perhaps hundreds of comparable examples of these digital fossils, but then there are also the freakish exceptions, the vestigial survivors which remain either because they simply do their job so well that there isn't a need to come up with an alternative, or which end up remaining in use more out of fluke than anything else.
One example of the latter is the Graphic Interchangeable Files better known as the GIF. GIFs are a joke, or at least in many of the diverse cultures of the internet they are the universal shorthand for one. GIFs might have once enjoyed a useful role following their introduction in 1987 in the era before fast internet connections and streamable video, but today the format's purpose is today largely consigned to that of conveying the Internet's numerous memes in moving form. The web is awash with animated GIFs of funny things, from clips of cats going berserk at the sight of a surprise cucumber to Monty Pythonesque animations based on renaissance paintings. Entire online conversation are conducted through the exchange of humorous GIFs and sites like Giphy exist purely to fulfill the need for them in the context of these conversations. A famous and rather neo-Fordist sounding trademark of the Apple corporation was that whatever you need 'there's an app for that'. In humour terms one might say similar for GIFs. Whatever joke you want to make, whether tasteless or witty, rooted high culture or deep in the gutter, there's probably a GIF for it, and if there isn't? Make one. Predictably the GIF's resurgent popularity has seen those outside the internet's anarchic communities attempt to cash in on it. A range of companies have run GIF based marketing campaigns with varying success. In 2015 the British Channel 4 news program introduced Newswall, a slightly awkward website displaying the news of the moment in GIFS, a project which ran for about eight months before it was shut down. While often quite funny Newswall also made very clear the difficulty of using GIFs to discuss controversial or troubling issues without appearing to make light of them. In 2016 Coca Cola introduced a new slogan and promoted with a GIF maker which allowed internet users to add their own slogans to short video clips from Coca Cola adverts. Predictably it was quickly trolled by internet users and had to be taken down.
The GIF's currency as digital shorthand for humour would seem to lie in a few of its unique characteristics. It has always been comparatively shareable, making low demands on bandwidth and storage compared to streaming video, although this is less an issue today. By popular demand social networks like Twitter and Facebook are gradually reintroducing support for them but in an example of how unnecessary the GIF's low bandwith demands now are the GIFS displayed on Twitter are actually resampled and displayed as MP4 video files. A more important element which is perhaps often overlooked are the aesthetics of GIFs. In their humorously disjointed looping, their silence and their fractured visual quality they call to mind early cinema, particularly the jerky slapstick of Chaplin or Keaton, and certainly these early films feel in a strange way most at home in the format of a GIF. It felt particularly apt while researching this piece to stumble across the animation above, a homage to Edweard Muybridge, who in his experiments with high speed sequential photography laid the groundworks for the developments of later pioneers like the Lumière brothers. Perhaps the association also goes beyond the aesthetic. I sense that for a certain generation which grew up during the early stages of the internet, the GIF has a certain nostalgia value perhaps akin to the nostalgia that the aesthetic of the cinema or television screen was to previous generations generations. Rooted in our earliest memories and experiences of the interne,t we have a bond to them which the advance of technology has struggled to break.
Beyond the history and mainstream use of GIFs I've recently been thinking about whether and how the format can be used for other purposes, like art, or journalism. GIF art is most definitely a practice (there's even a GIF art collective) an activity with it's roots in the early internet but which continues in diverse forms today, and which spans people experimenting with and highlighting the unique specificities of GIFs to others who view the format simply as a useful medium for other ideas they are keen to discuss. Much of this art references the popular use of GIFs as a medium of humour, escalating cheap cracks and meme's into more sophisticated commentaries on art and culture. An example of this might be Zack Dougherty, who under the name of Hateplow creates GIFS that reference and rework classical sculpture and archaeology, combining the two to offer a commentary on the present. For another example more towards the photographic side of things, Swedish artist Martin Brink has experimented with a range of web based mediums in his work, including producing GIF based images which change with varying drama as the viewer watches them.
I have also been sporadically experimenting with GIFs as a medium for work of a more documentary nature. Recently I became interested in the question of whether the refugee crisis that continues to unfold across Europe, the Middle East and North Africa, is leaving traces behind that are detectable from space. Using satellite imagery, I have been attempting to locate markers in the landscape left behind by various actors and agents in the crisis and to show the changes in these markers over time as the crisis also mutates and transforms, as new routes are opened and closed, and new sites appear and disappear. The expansion and contraction of the Calais refugee camp known as The Jungle is an obvious example, but others are more nebulous. The construction of the Hungarian border fence for example or the appearance and disappearance of seasonal camps used by refugees working as temporary farm workers in Turkey. Others, like the pathways beaten through the countryside by refugees seeking passage across borders might be barely detectable or may not even register at all on the intentionally degraded imagery available to public view. By imaging the same sites multiple times over several years and then compositing these images into animated GIFs I am trying to suggest the expansion and contraction of the crisis and it's causes in different parts of the world at different times. In other instances, the locations imaged suggest not change, but inertia. The European parliament in Brussels for example appears in virtual stasis as the crisis unfolds over several years.
As I start to collect more of these I hope that these images will start to form a web of locations, which will in turn be mapped across the affected regions in order to give viewers a sense of how one flows into another. I have published some of these images on my website under the working title Borderlands and I am also releasing these and others as I create them on to GIF file sharing services. The hope being that when seen alongside jerky animations of a sneezing panda or a morose dog, a looping satellite image of a refugee camp blossoming out across the Jordanian desert might, in the jarring moment of an unexpected encounter, give someone pause for thought.