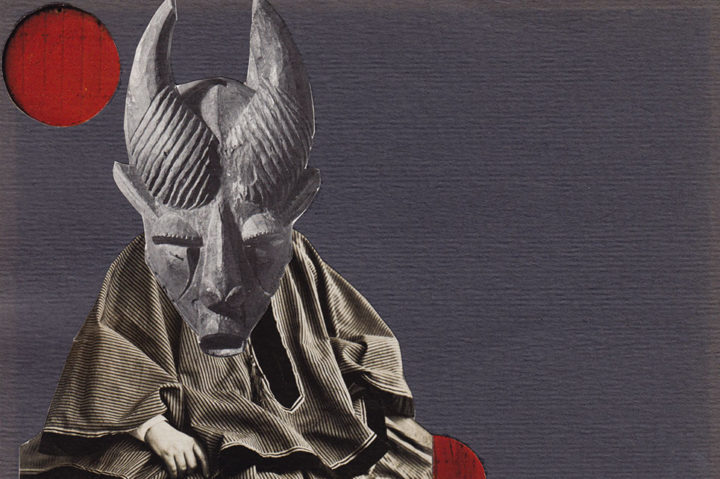 This week I'm in France for the annual Recontres Les Arles photography festival. Like last year I'll be posting a series of rapid fire posts over the next few days summing up some of my festival highlights. First up are Stephanie Solinas's Methods of Loci and Maud Sulter's Syrcas, two exhibitions which look at ideas of European history, race and empire in very differnt but strangely complementary ways.
Methods of Loci by French photographer Stephanie Solinas was one of the first exhibitions I visited, partly because it is housed in one of my favourite of the town's venues, the former cloisters of St-Trophime in the centre of Arles. The work's title refers to a mnemonic technique, also known as the memory palace, which originated in ancient Greece to aid orators in the memorization of complex speeches (by coincidence I have an exhibition on exactly the same theme opening in London next week). The methods of loci technique exploits the power of spatial memory in order to improve a person's ability to remember much more abstract information, the sort of thing we normally struggle to recall. In Solinas's work this method becomes a strange sort of metaphor for her examination of the Lustucru Hall, a monumental industrial derelict on the edge of Arles. Originally constructed by the Eiffel Company for a colonial exhibition held in 1905 in Marseille, this grand building was dismantled at the end of the exhibition, relocated to Arles and served as a rice warehouse with periodic uses for other purposes including as a barracks for the French, German and American armies during the Second World War. In 2003 it was flooded, it's use as warehouse ended and today it faces an uncertain future.
Solinas's work investigates the space of this structure and in doing so also it's history, both it's specific, local history and also it's place as part of a much broader world history. She employs a diverse set of strategies to probe the space, examining it through archive imagery, through interviews with those who have worked in or studied it, through an exploration of it's natural history and even through sound. As these examinations are layered upon one another a building which at first glance appears to be a relatively neutral one is revealed in fact to be a complex symbol of successive and interlinked economic and political eras, of ninteenth century colonialism, twentieth century capitalism and finally twenty-first century globalisation. The ambitious, complex layout of the work in the space creates a strangely compelling spatial and thematic loop around a dense island of images. Visitors start with original imagery from the Detaille Fund Archive which show the building under construction (the prints buckled and warped by water damaged caused by a flood in 1938), they then loop around the display as it covers the buildin's uses over the following century, before concluding with objects from the 2003 flood which put an end to the buildings use.
Still processing this complex work I moved across the road to a small exhibition of work by the Scottish-Ghanian artist and writer Maud Sulter which has been curated by Mark Sealy, director of Autograph ABP where this series was recently on display. In her photomontage series Syrcas, Sulter examines the murder of Europeans of African descent during the holocaust, an episode which has attracted relatively little scholarly or public interest relative to other victims of Nazi intolerance. To do this she uses collage to juxtapose photographs of Africa sculpture and imagery against European art, ranging from kitsch landscape paintings of alpine mountains mixed with African masks, to a photographic portrait of Alexander Dumas overlayed with the morose face of an African elephant. The resulting images are uneasily surreal, calling to mind some of the collages of the feminist artist Martha Rosler, and also more directly echoing Hannah Hoch's 1930 series An Ethnographic Museum. What unites three artists is an interest in the imagery of ideals, and how those who do not fit with these images are often systematically persecuted, excluded from history, and sometimes ultimately excluded from exsistence.
Alongside this work is a recording of Sulter reading the text of her 1993 poem Blood Money. The poem was inspired by the German photographer August Sander's photograph Circus Workers (1926-32) which is notable amongst Sander's oeuvre for including a black subject, non-whites being otherwise noticeably absent from his epic project to document the inhabitants of early twentieth century Germany. This image offers a starting point for Sulter to imagine the experience of black Germans in this period as the Nazi party became increasingly influential and racial discrimination became not only the norm, but a legally constituted fact of life in Germany. If there could be any doubt about the message in Sulter's collages, this poem removes it with it's sadly poignant words. It is strange to view something so dark in the bright sunshine of Arles, but it is right that there are no good feelings or resolved narratives to be found in this work. As Sulter muses towards the close in her thick Glaswegian accent; 'There is no way I can make this poem rhyme.'
My attendance at this event was supported by London College of Communication, University of the Arts London's Continuing Professional Development fund.