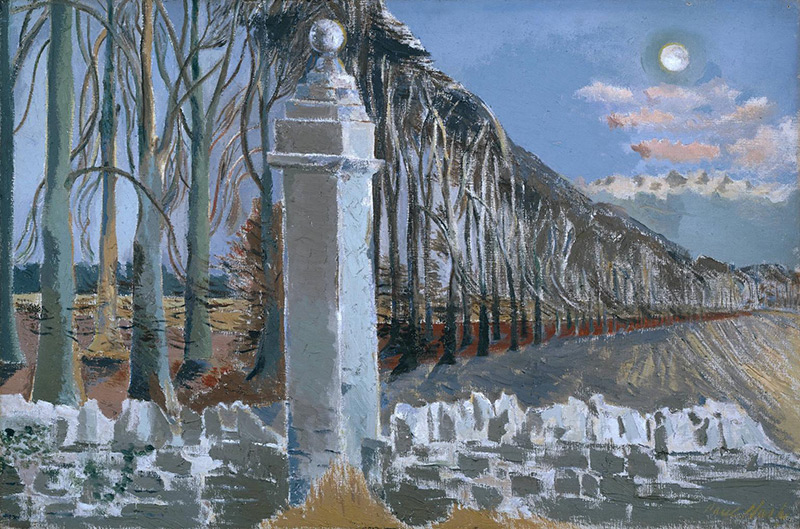 'One knew of places in ancient Greece, where the way led down to the underworld – A land full of inconspicuous places from which dreams arise'.
– Walter Benjamin, The Arcades Project
Assumptions about the past are rarely wise, but it seems safe to say that the ruin has been with man since he first learnt to craft structures to suit his needs. The aesthetic appreciation of these derelicts is however a comparatively, and perhaps inherently, modern preoccupation. Ruin Lust, a new show at Tate Britain co-curated by Brian Dillion, looks at the figure of the ruin in European art from the eighteenth century, when the intellectual revolution of the enlightenment imbued these sites with entirely new symbolic meaning. As a philosophical movement which very clearly compared itself to what had come before, the ruin was an important icon of past cultures, both their successes and failures.
Ruin admirers like Giovanni Piranesi and J.M.W. Turner helped to foreground these relics, moving them from aesthetic backdrops to a central and multi-faceted symbol in western art. This fascination with the ruin continued through the nineteenth century and into the twentieth with artists like Paul Nash and John Piper responding to the unprecedented material, human, and moral ruination the resulted from the Second World War. More recently the likes of Jon Savage and Rachel Whiteread have in turn examined the decay of the utopian architectural visions that emerged from Piper and Nash's ruins, the cities in the sky of post-war housing estates, themselves in time brought to their own violent ends.
As the Dillion notes in the introduction to his edited volume Ruins, it is partly the paradox of these architectural remains which make them attractive. They are both the substance of a lost past, and at the same time they are necessarily here in the present, and in many cases will last on into the future long after the viewer has succumbed. With this in mind it's interesting to note that while many artworks crystallise ruins at a single moment in time as if they were immortal and unchanging, in reality ruination is a dynamic process marked by erosion, growth, slow shifts, sudden collapse. Writing in 1911 Georg Simmel described ruination as an equilibrium between architecture and nature, a fleeting period where neither has the upper hand, before nature's irresistible force inevitably prevails.
The camera seems particularly drawn to ruins, indeed tracing back into photography's earliest history the ruin appears frequently. Even before the recognised moment of the invention of photography, artists like Simone Pomardi and Edward Dodwell were employing camera obscuras to draw the shattered remains of ancient Greece with near photographic accuracy. An often overlooked early pioneer of photography, the fantastically named Gaspard-Pierre-Gustave Joly de Lotbinière, was the first to photograph the Athenian Parthenon in 1839, mere months after Daguerre's first demonstration of his method to the French Academy of Sciences. A relatively early photographic inclusion in this exhibition are several beautiful photographs taken in the 1870's by the idiosyncratic Society for Photographing Relics of Old London.
This choice of subject for early photographers was perhaps partly pragmatic. Ruins are static and outside, affording an ample supply of time and light, the two things desperately required by early photographic processes. Equally the established status of the ruin in fine art must have made it a viable commercial subject at the time of photography's invention. At the same time I find myself wondering if some of these early photographers – so many of whom were after all artists or associated with the arts – also felt in some way that ruins were an appropriate subject by which this strange new medium might demonstrate it's status. Not apart, but part of an existing artistic lineage.
Jumping from photography's distant past to its very present, while 'ruin lust' is an approximate translation of a German word it also calls to mind the unpleasant internet-ism, 'ruin porn'. Pejoratively applied to photographs of dereliction produced by curious amateurs (no porno pun intended) and hard-core urban explorers alike, ruin porn is often empty, both literally, visually and also morally, philisophically. The abandoned city of Pripiyat in the exclusion zone of Ukraine's Chernobyl Nuclear Power Plant, is a case in point. A place so often photographed that it has become a defacto site of pilgrimage for photographers, oblivious or indifferent to the basic cruelty of returning as a tourist to a place from which so many remain forcibly excluded.
Perhaps the camera's magnetic attraction to these sites and sights of desolation reflects the fact that the photograph itself has something of the sense of a ruin about it. A temporal paradox of sorts, the photograph is always a trace of the past which lingers on into the present. The decay it faces is less clearly physical (particularly in the age of digital media) but rather is interpretive. When viewing certain photographs I am often overwhelmed by the sense that I am looking at an impossibly incomplete fragment of something, a remains or leaving which can never be completed or restored, and the understanding of which will only erode further as time passes, and more knowledge of the thing depicted is lost.
The ruin then is an artistically and intellectually rich seam. The Tate's show covers much ground but unfortunately sheds less light than it might have. It is for example hobbled rather by museum's remit, which makes this predominantly an exhibition of British artists drawn from the Tate's collection. Jane and Louise Wilson's photographs of the bunkers of the Atlantikwall for example are no substitute for Paul Virilio's earlier, more nuanced visual and textual musings on what J.G Ballard described as the leavings of 'a race of warrior scientists, obsessed with geometry and death'. There is relatively little of the interpretation that Dillion can be so good at, and a rather random approach to curation, with some artists reoccurring almost to excess, others dissipating after one or two small pieces. Tacita Dean, for example, is afforded an entire section of the exhibition in a way which rather implies her work is a form of ruin itself.
It seems fitting though, if a little ironic, to focus on this subject matter in a city like London. On returning to city after the Second World War the travel writer H.V Morton evocatively described a conurbation composed almost entirely of ruins, inhabited by children who had only ever known it as such. For a surprisingly long time these derelicts persisted, the sites of bomb destroyed buildings remaining empty amongst rows of houses sometimes even for so long as to come within my own short living memory. The city's recent development boom has seen the disappearance of probably all of these, and even of those great ruins that were long considered too complex or costly to demolish or develop are in danger. The monumental shell of Battersea Power Station, a mere bend of the river away from Tate Britain, is a case in point. After decades of dereliction it will in a few years be converted into a luxury block of flats. The ruin itself is being ruined.
Ruin Lust is on at Tate Britain until May 18th 2014.