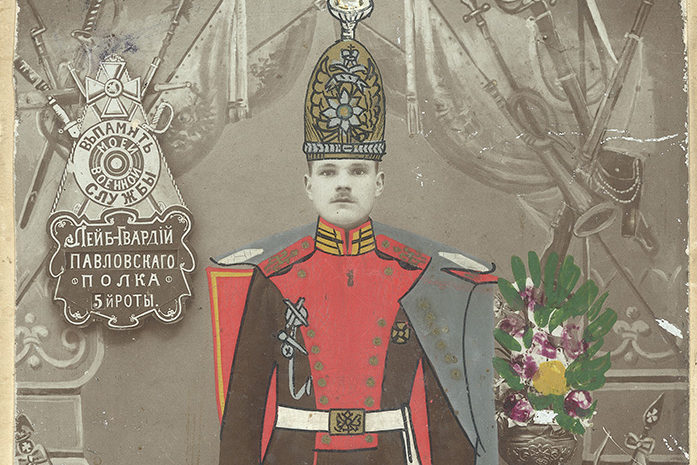 I must admit I had no idea that 2014 was the United Kingdom-Russia Year of Culture, I suppose in part because it has been so overshadowed in the news by Russia's misadventure in Ukraine and a souring in relations with the UK. To mark this year a major program of visual arts has been organised including a number of photography exhibitions, the latest of which has just opened at The Photographers Gallery. Primrose is survey of early Russian colour photography, which uses the evolution of the medium as a way to mirror and chart the profound changes occurring in Russia from the 1860's through to the final years of the Soviet Union.
The exhibition is split across two gallery spaces, the first covering photography in the Tsarist period, and the second looking at the post-revolutionary period. In the first space the selection of photographs and the definition of 'colour photography' is wonderfully broad and we're offered everything from a series of strikingly contemporary autochromes by Pyotr Vedenisov, to hand painted photographs by anonymous amateurs and jobbing photographers.
These hand tinted photographs are wonderful, offering an intriguing middle ground between painting and photography, and reflecting the continued desirability of the former long after the invention of the latter. On some of these photographs the overpainting is so subtle as to be almost unnoticeable, on others it completely obliterates and hides the original image. In others still the two co-exist in an awkward harmony, as in a series of photographs of soldiers who have had their uniforms augmented with amusingly two dimensional capes and hats. This overpainting is also an interesting precursor to the much better known manipulation of photographs that would occur during the Soviet era.
The second gallery covers the post-revolutionary period and will I suspect have broader appeal, if only in the sense that it deals with an outwardly more dramatic period of history, and one which many more people are conscious of. Again the definition of colour photography is thrown wide, starting with a series of brilliant revolutionary photomontages made by Varvara Stepanova and Aleksander Rodchenko. Moving into the Stalin era, the straightjacketing of art with the introduction of socialist realism in 1932 is nicely illustrated with work by Vasily Ulitin made before and after this date. We see his shift away from pictorialism and 'bourgeoise' subjects like landscapes and into line with the tedious official prescriptions on acceptable artistic subjects and genres.
Perhaps the best represented photographer in the second gallery is Dimitri Balamants, known by most for his dynamic and often very beautiful black and white photographs of Russia's Great Patriotic War. Knowing these images well it's an odd experience to see the incredibly stilted colour work he produced after the war as an official photographer working to a very different brief, often staging photographs rather than responding to dynamic events. For example one photograph 'Do you see the Fault' shows two children inspecting a model plane with extreme seriousness, presumably portending future careers as aircraft engineers. The death of Stalin (also documented by Balamants) marked a political and artistic thaw, and his work from the fifties onwards shifts towards a more relaxed – although in some ways oddly less interesting – style of photography more akin to western reportage.
The contemporary end of the spectrum is somewhat inevitably represented by Boris Mikahlov. His photographs are as ever brilliantly funny and sharp, and feel all the more so when you come to them after spending an hour or two looking at the rest of the photography, which is in various senses rather rigid. In this way at least his inclusion is a nice touch because it gives you a sense of what an explosive effect his work must have made when he first began showing it at small artists gatherings in the Soviet Union. In all this is a great show which gives a fascinating oversight of a vast topic in a surprisingly compact space. It might have been nice to see some less recognisable names from the Soviet era, and equally the timing of the show seems a little strange, opening as it did only shortly before the contemporary Russian photography exhibition at Calvert 22 closes, but these are two very minor complaints.
Primrose: Early Colour Photography in Russia is on at The Photographers Gallery until October 19th 2014.