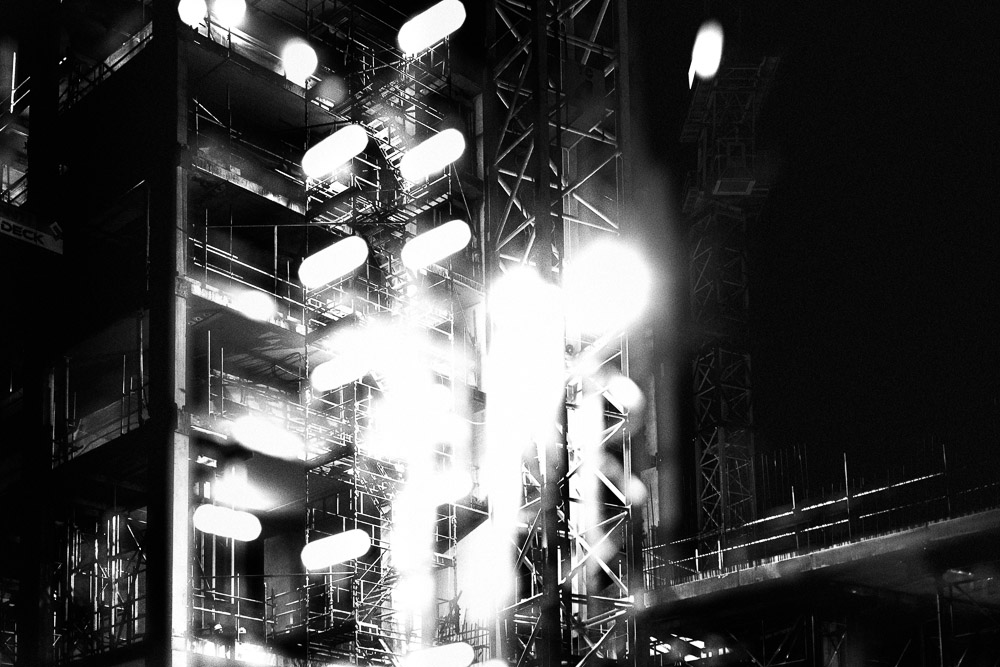 'Elephant I', from Metropole
–
In a recent piece I suggested that at least part of the reason for the lack of documentary work about the ongoing effects of recession and austerity are the difficulties of representing issues which are often so intangible and abstract. My latest photographic project, which is now available to buy, is partly a response to these difficulties.
Metropole is the result of dozens of walks taken through London, recording new construction sites and high rises which have arisen throughout the city in recent years. These structures typify the influx of capital and the development boom which has transformed the metropolis, in the process making it ever more unequal, unaffordable, and unfamiliar to it's long term residents. As the book progresses the initially calm and dream-like photographs become increasingly confusing and nightmarish, warping into complex and aggressive overlapping patterns, reminiscent of the abstractions of Vorticist paintings. Finally the images return to normal, coming to rest on the financial centre of the city, the dark heart driving this change.
Historically the 'Metropole' was a term used to describe London in its relationship with the British Empire, a relationship deeply hierarchical and profoundly unequal, with power radiating out from the metropolitan centre, and the resources of the dominions radiating back in return. Today the old empire is gone, but in its stead a new world power, that of international finance, has installed itself here, on this axis mundi of global trade.
From tomorrow an image from Metropole will be on display on the London Arts Board, at the corner of Peckham Road and Vestry Road, near South London Gallery and Camberwell College of Arts. The London Arts Board itself resides on land destined for future redevelopment, making it a more than fitting venue for the work. The Metropole book is available in limited numbers as a black and white publication, and also as a special edition, oversized version. A small run of silk screen prints based on the series and printed by yours truly are also available to buy. All of these things can be viewed and purchased from my online shop and more information about the project is available on my site. I'll also be signing copies of the book on March 15th 2015, from 6pm at The Bear Free House, 296 Camberwell New Road, London, SE5