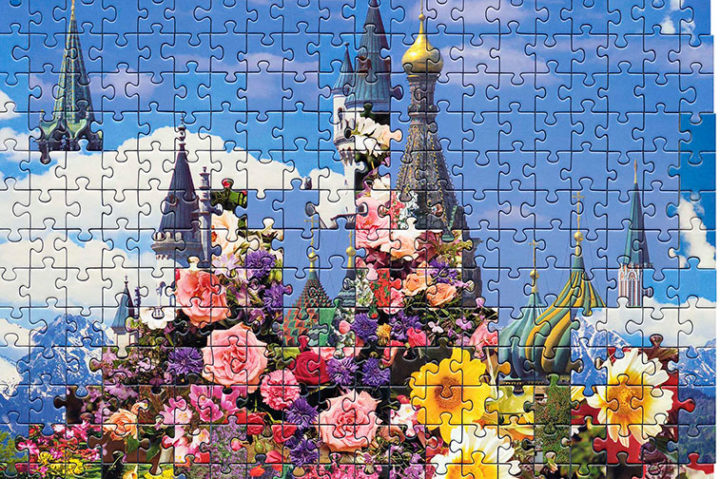 This week I'm in France for the annual Recontres Les Arles photography festival. Like last year I'll be posting a series of rapid fire posts over the next few days summing up some of my festival highlights. First I looked at Stephanie Solinas's Methods of Loci and Maud Sulter's Syrcas, two exhibitions which consider European history, race and empire in different but complementary ways. Next I discussed two conflict exhibitions, Don McCullin's Looking Beyond the Edge and 9/11 focused the group show Nothing but Blue Skies. Today I want to look at two slightly more humorous exhibitions, Fabulous Failures and Camarguais Western.
Fabulous Failures, which has been curated by Erik Kessels, bills itself as a celebration of experiments gone wrong but which in a way have also right and revealed something odd, funny or thought provoking. I love the idea and was hoping for an exhibition of photography which is unintentionally mistake ridden, but instead this is generally more a case of photographers turning their lenses on other people's mistakes or manufacturing them artificially, rather than acknowledging their own unintentional ones. An example is Thomas Mailaender's Toilet Fail, a book of photographs of badly thought out arrangements of toilets (awkwardly facing each other, barely accessible behind the stall door, and so on). Likewise Joan Fontcuberta's Constellations series is, like much of his work, an intentional misleading of the audience, less his mistake than ours. Jochamin Schmind's Purple was for me one of the highlights of the show, a series of images taken with a digital camera in it's death throes, the photographs are all cast in a purple hue and distorted by extreme artefacts.
Other artists rework existing material into things which look like mistakes. Kent Rogowski's Love = Love mixes jigsaw puzzles together to create images where two different subjects merge together into a fragmented form. Despite the very analogue, physical means of creating these images they have a strangely digital, pixelated look. Another nice inclusion is Ruth van Beek's series The Levitators a series of vintage postcards of dogs which have been cleverly folded on themselves to make it appears as if each animal is levitating. In many cases this means they also lose many distinguishing features; legs, eyes, mouths, and the result is a typology of strange mop like bundles of fur hovering a foot off the ground. If I had a criticism it would be that the individual works in Fabulous Failures are sometimes overshadowed by the staging which plays on the idea of failure to a slightly ridiculous degree. Anyone allergic to the recent trend for objects to be propped up against the gallery wall as if their installers had forgotten to finish the job is advised to stay away from this. In the case of Rogowski's series it actually looks a little as if part the installation has collapsed into a pile on the floor and no one has bothered to pick it up. The layout is amusing for a while but sometimes gets in the way of just enjoying what's on show, something exacerbated by the confusion amongst some of the visitors about how to transit the chaotic arrangements.
While Fabulous Failures is unashamedly quirky in content and form, Camarguais Western tells a strange story in a straight way. This exhibition curated by Estelle Rouquette and Sam Stourdzé, looks at how the Camargue region of France became an unlikely backdrop for a series of western style films, made from the birth of cinema through until the 1960's. Initially the Camargue acted as a double for the wild west, passing for genuine American locations in films like Drame Mexacain (1904) and the brilliantly named Le Railway De Mort (1912). With it's rugged and inhospitable landscape it makes a convincing replacement, even if the architecture of the frontier town sets and many of the actors appear unmistakably European. Camargue in this period remained very much a frontier even within France, its inhospitable terrain, bulls, and numerous mosquitoes (which, trust me, remain numerous today) making life difficult for this interpreid film makers who resorted to guzzling quantities pastis to ward off illness. The stills on display, both publicity images and behind the scenes photographs are wonderful and are supported by some brilliant posters and clips from the featured films.
Work on these early films were stalled by the coming of the First World War but following it's end French directors began to assert a new confidence. During the interwar periods the location for these epics was increasingly acknowledged to be Carmague as in films like Roi de Camargue (1934) and the brilliant Mirelle (1933). Inspired by a Frédéric Mistral poem, this film depicts a landscape and people every bit as wild as that of the Far West. In one particularly brilliant scene the antagonist cowhand Ourrias wrestles a bull to the floor with his bare hands in a display of compelling brute force made all the more incredible by the abscence of stuntment or special effects. What's also interesting is the way some of the more complex and questionable politics of Westerns were replicated in their French equivalents, for example in the way Roma characters often took the equivalent role to Native Americans. Later films including the campy D'où viens-tu Johnny (1963) which stars Johhny Halliday as a Parisian forced to flee to the south after dumping a case of someone else's cocaine in the Seine. Cue some brilliantly naff musical numbers and great behind the scenes stills photography by Claude Schwartz. While the popularity of the Carmague as France's wild frontier waned in this period, the show ends with a small display showing it's continued influence in the form of several bizarre images of modern leaders emulating the cowboy lifestyle. Perhaps the most brilliant is a photograph by Dominique Faget of former French president Sarkozy riding a placid horse down a road while pursued by a tractor pulling a trailer full of journalists It's an piece of media every bit as surreal as those early silent films of cowboys roving across the South of France.
My attendance at this event was supported by London College of Communication, University of the Arts London's Continuing Professional Development fund.