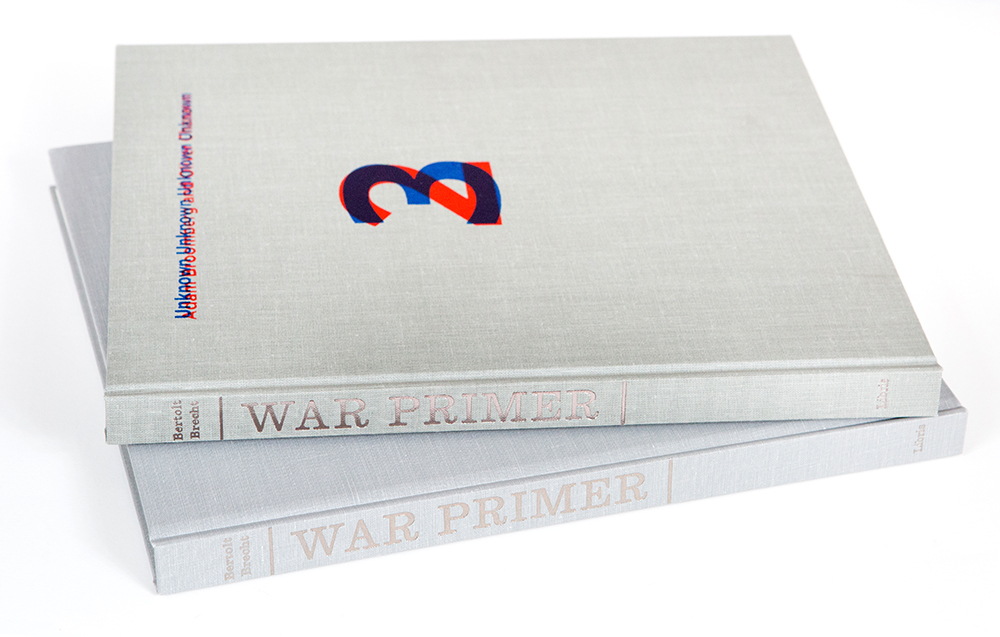 The 1998 Libris edition of War Primer (bottom) and the 2015 War Primer 3 dummy (top).
–
In response to a few requests I wrote a piece last week setting out how I start to think about and approach a new book project. I talked about the importance of considering whether a project is really suited to being a book, and then spent most of the piece discussing narrative and editing strategies that I've found have worked quite well when teaching. It might have seemed a little odd to give over so much of the post to discussing something which isn't directly related to book design, but the way you construct a narrative from a series of photographs is I think the single most important thing about a book. Every other element can be amazing, but if the order of the images is vague, or worse, without any extractable meaning, then it's all for nothing. As anyone will know who has ever been shown a very version of a project which still looked amazing, a book live and dies by the order of its pages and too many books labour over a beautiful design while being are willfully or accidentally obscure and arcane about their messages.
Assuming you've constructed a narrative that works for your subject, the next question for me is how I get this narrative to sit on the page, and what design details I incorporate to really try and pull the whole book towards the topic. For me a well-designed book is one where all the elements speak to the central topic, but not in a way which is flashy, over the top or distracting from the core subject. Naïve or clumsy design is one thing, far worse for me though is a book that's been completely over-designed, to the extent that the photographs and other content are overwhelmed. If you're looking to work with a designer I'd be wary of anyone who doesn't seem sympathetic or engaged with the subject or seems too eager to put their design signature on the finished book.
Once I've established a narrative the first thing I start to think about it layout. In truth often narrative and layout start to evolve and suggest each other at the same time so like many of the categories I'm talking about here this is something of an arbitrary distinction. I tend to use layouts structured around grids which is a somewhat rigid way to design but makes it far easier to be consistent through a book and to arrange things in a way which echo things on other pages. For example with Metropole a grid structure made it easy to have all the texts in the book echo the size and positioning of the cover title, a minor detail but an important one to the design. It also helped in lining up elements within some of the photographs.
At this stage the book will be starting to look pretty complete and I might start to think about any smaller elements that I might want to include in the book to tie together the design or theme. In The Camera Obscured I found that I wanted to leave quite a few blank pages but these looked a little odd, so I spent some time researching old printers marks looking for one which fitted the theme, until I found one shaped like the sun. I also felt the cover, which was text only at the time, needed something extra and spent some time researching old treatise on optics looking for decorative elements I could extract and use. Personally I think less is more with these details, and once again they always need to tie back in to what the book is ultimately about.
I've left fonts until last to mention, but in practice the choice of a particular font can occur at any point in a project. Personally I like to use fonts which have some echo of the central theme of the book but without that echo being overwhelmingly obvious. Sometimes I have one in mind even as I'm still shooting, at other times I spend hours searching through font databases looking for one with the right character. For Metropole I used Gill Sans Light for it's slight art deco styling which I thought neatly echoed the origins of the book's title. Sometimes the choice is defined more by practically and for Numbers in the Dark I knew there would be a great deal of text so I looked for an easy to read font that also had an echo of a computer or typewritten font. I eventually found what I wanted in one called Inconsolata.
I know there remain a host of topics I haven't discussed, but I hope that the guiding principle of considering how each decision relates to the topic you want to talk about will answer many of these. I also know I've made it sound rather like a book can go from a scattering of photographs to a finished item in one easy draft. In practice it often takes many redrafts and revisions. Metropole is only thirty pages long and went through about six versions, and Numbers in the Dark has been through eight versions so far and is only just reaching a finished state. Whether you're working on a ten page photocopied zine or a hundred page leather bound opus, take your time, think about every detail in relation to the topic and the book will reward you for it.